The Problem:

Evaroof is a solid tile, conservatory roof, replacement system. But the replacement conservatory roof sector is blighted by copy-cat advertising and messaging. Product shot, library 'muzak' and "is your conservatory too hot in summer, too cold in winter?" message. All executed the same way by local firms to national brands. Evaroof is a unique product with multiple consumer benefits. Our job was to deliver that message in a focussed, emotive and distinctive way.
The Mind Field Thinking:
Ads for Evaroof's competitors focus on product features. But amidst the cost of living crisis and steep increases on energy bills, we decided to lean into the zeitgeist of this big news story to communicate the benefits of Evaroof. Anyone with a conservatory knows how expensive it can be to heat or cool in seasonal weather. With Evaroof, you can lose the expensive, inefficient, portable heaters and fans and create a consistent temperature in a room you can enjoy 365 days a year.
Services:
Creative,
Digital Strategy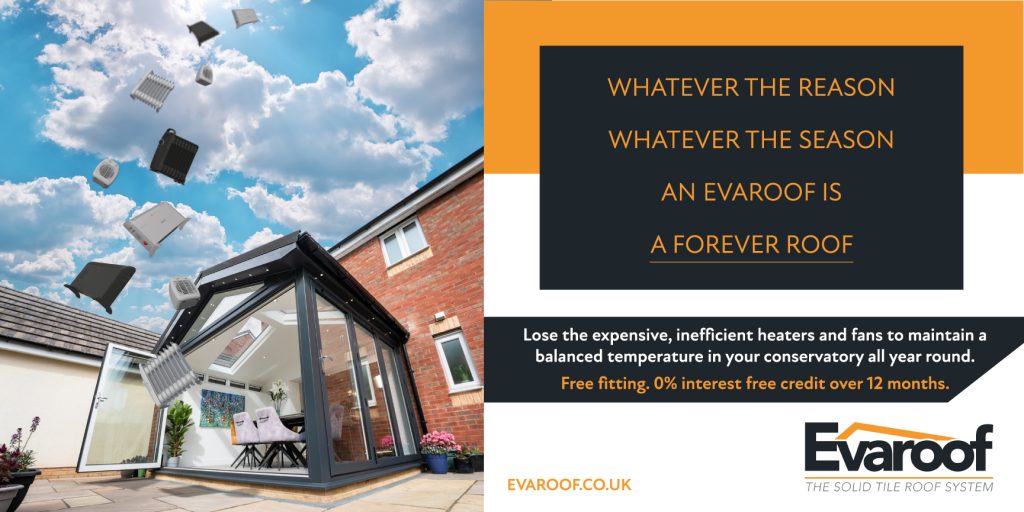 The Answer:
'WHATEVER THE REASON, WHATEVER THE SEASON, AN EVAROOF IS A FOREVER ROOF'
Impact + Communication + Persuasion = Results. Our creative execution is a drone shot over a town. We see portable radiators, fans, air con units etc ascending to the heavens on their way to the great electrical device graveyard in the sky. No longer needed; these expensive, inefficient devices are being let go by homeowners who've switched to Evaroof. Giving them added space for the home in a usable room all year round. Self-esteem in improving the look of their home. Self-expression as they can customise the Evaroof to their taste. And peace of mind with a 60yr life expectancy on tiles.
We also created a sonic brand anthem called 'For-Eva' to evoke the celestial dreaminess of the devices ascending to the heavens whilst the family enjoy their conservatory. TV, Radio, Social, Digital and OOH – Whatever the season, whatever the reason, an Evaroof is a forever roof.